The following events are for Wine Club Members Only.
Interested in joining the club? > Click Here
February 16th-18th | All Weekend 
Lovers Getaway Weekend- WAW

Enjoy a romantic weekend in wine country at the Grape Leaf Inn or Calderwood Inn just steps away from downtown Healdsburg. Package includes luxury accommodations and gourmet breakfasts, Winemaker Dinner at deLorimier, and award winning wines.
March 24th | 5-9pm 
Club Winemaker Dinner

"Wine & Dine" with the Stars of Dry Creek at the Dry Creek Kitchen. Featuring Winemaker Diane Wilson with her current releases of award winning wines paired with appetizers and a 4-course dinner by Chef Scott of the Dry Creek Kitchen.
April 27th | 6-8pm
Club Passport Reception

Opening Night with the Stars of Dry Creek Valley at Passport 2018 with a Club Preview Party featuring Award Winning Wines with a library vertical from Carl's Vineyard, delicious appetizers by The Farmer's Wife, live music Honey B and the Pollinators, photo booth, and costume contest with award ceremony! Don't miss a special night at Wilson Winery!
Club members plus 2 guests
$25 per person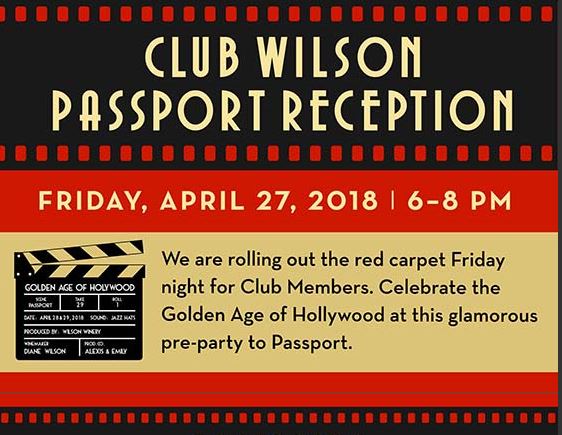 June 16th | 5-9pm
Club Summer Celebration

Celebrate Summer with family and friends at the exclusive and private Vineyard Club in Geyserville. Kathie King Catering & live music with Steve Pile Band
July 20th-22nd
Club Whitewater Raft Trip

Whitewater Raft Weekend Trip with EarthTrek Expeditions | Wilson & deLorimier Wineries
September 8th | 11:30am to 4pm
Harvest Luncheon 
Celebrating the bounty of wine & harvest | Luncheon & Educational Experience | Chalk Hill Vineyard
September 17th-19th
WAW Wilson Family Experience
Wilson Artisan Wineries "Behind the Scenes" Harvest and Cellar Experience
November 2nd | 6:00 to 8:00 pm
Rockpile Evening Soiree 
Exclusive opportunity to meet the growers and taste these pre-released wines from Rockpile AVA  | Hosted at the Coyote Sonoma. Live music, heavy appetizers, event specials and more! Experience the wines from the Botticelli, Florence, Rockpile and Thomas Vineyards.
November 30th- December 2nd
Holiday Getaway Weekend with Winemaker Dinner
Grape Leaf Inn | Includes accommodations & breakfasts, Winemaker Dinner and Club Holiday Party
December 1st | 11am or 2:30pm
Club Holiday Celebration

Holiday Cheer, & Appetizers, Ugly Sweater Contest, and Live Music | Grape Leaf Inn
January
13th & 14th
11AM – 4PM
January
20th
11AM -5PM

ZINfandel Experience 2018

January
27th
11AM – 4PM
2nd Annual Wine & Chili Pairing Compeition with Wilson Artisan Wines

Award Winning Wines at 9 Wineries plus Chili Competition & Tasting | Wine Club & Guests $12 PP
Public $20 PP
Info & Tickets

January
27th
5:30-9:30 PM
Ken Wilson's Rock Lobster Party

A Traditional Lobster Boil, Dance Party with DJ Lobster Luv, and Wilson Artisan Wines | WC: $125;
Public: $150
Info & Tickets

February
16th – 18th
Lovers Getaway Weekend

Weekend Package at the Grape Leaf Inn and Calderwood Inn |
Info & Tickets

February
17th
1:30 – 5PM
San Francisco Chronicle's Public Wine Tasting
Wine Country Comes to San Francisco | Taste the Gold Medal Wines | Ft. Mason Festival Pavilion
Info & Tickets
February
18th
6 – 9 PM
Rodeo Uncorked: Roundup & Best Bites Competition

Roundup & Best Bites Competition | World's Largest Gourmet Food Event Pairing with Award Winning Wines from International Wine Competition
Info & Tickets

March
2nd – 4th &
9th – 11th
11 AM – 4 PM
Taste Your Future
WAW Club Members are Invited to Taste & Purchase 2016 Zinfandel Futures | Wilson Winery is NOT an Event Participant in Barrel Tasting
Information
(no tickets necessary)
March
24th
5 – 9 PM
Club Winemaker Dinner
"Wine & Dine" with the Stars of Dry Creek at the Dry Creek Kitchen | WC: $125pp; Public: $175pp
Info & Tickets
April
27th
11AM – 2PM
Prelude to Passport Luncheon
Winemaker Luncheon with Winemaker Diane Wilson and Chef Kathie King | Wilson Winery | $75.00 PP | Pre-Sale Ticket Code: WILSON4118
Info & Tickets
April
27th
6 – 8PM
Club Passport Reception

Passport Preview with Award Winning Wines, Live Music, and Costume Contest
Club Member + 2 | $20 PP
Info & Tickets

April
28th – 29th
11AM – 5PM
Passport to Dry Creek Valley

Sponsored by Wine Growers of Dry Creek Valley | Pre-Sale Ticket Code: WILSON4118
Info & Tickets

May
6th – 13th
2018 Danube River Cruise with ZAP

Join Winemaker Diane Wilson Aboard the SS Maria Theresa
Budapest to Passau
Info & Tickets

June
9th
6 – 10 PM
17th Annual Fundraiser Gala

Extraordinary Wines, 3-Course Dinner, Raffle, Prizes, and Live & Silent Auction | Benefiting Children of the Vineyard Workers Scholarship Fund | Soda Rock Winery
Info & Tickets

June
16th
5 – 9 PM
Club Summer Celebration & Dinner

Celebrate Summer with Family & Friends at the Exclusive, Private Vineyard Club in Geyserville | Kathie King Catering & Live Music with Steve Pile Band
Info & Tickets

June
30th
11AM – 4PM
All American ZIN Day

Celebrate ZIN in Dry Creek Valley | Enjoy Wine & Food at Participating Wineries
Info & Tickets

July
20th – 22nd
Club Whitewater Raft Trip

Whitewater Raft Weekend Trip with EarthTrek Expeditions | Wilson & deLorimier Wineries
Information

July
28th
11AM – 4PM
2nd Annual Wine & Grilling Showdown with Wilson Artisan Wines
Multi-winery Wine & Grilling Pairing Competition
Info & Tickets TBD
September (Dates to BE announced)
Sonoma Wine Country Weekend
Taste of Sonoma
Info & Tickets
September
8th
11:30AM – 4PM
Harvest Luncheon

Celebrating the Bounty of Wine & Harvest | Luncheon & Educational Experience |Chalk Hill Vineyard | $85 pp
Info & Tickets

September
17th – 19th
Wilson Family Experience

Wilson Artisan Wineries "Behind the Scenes" Harvest & Cellar Experience
Info & Tickets

October
5th – 7th
Sonoma County Harvest Fair

Taste the Best of Sonoma County Wines & Culinary Delights | Sonoma County Fair Grounds
Info & Tickets

October
20th
11AM – 4PM
Taste the Gold

Wine Club Members | Taste the 2018 Harvest Fair Gold Medal Wines | Complimentary for WC + 4 Guests
Info & Tickets


November
3rd – 4th
11AM – 4PM

Wine & Food Affair



Sponsored by Wine Road


Info & Tickets

Nov. 30th –
Dec. 2nd

Holiday Getaway Weekend with Winemaker Dinner

Grape Leaf Inn | Includes Accommodations & Breakfasts, Winemaker Dinner & Club Holiday Party
Reservations

December 1st
11AM or
2:30 PM



Club Holiday Celebration


Holiday Cheer & Appetizers, Ugly Sweater Contest, & Live Music | Grape Leaf Inn
WC + 2 Guests $25 PP
Info & Tickets