We invite you to visit us at our Healdsburg Wine Tasting Room.
Come and sample our award-winning wines, enjoy a picnic lunch or tasting experience.
Visit us daily, between 11 am and 5 pm.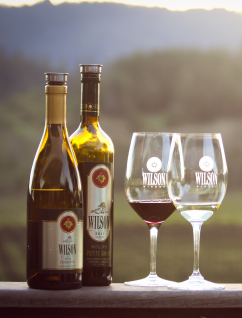 OUR WINES
Our Dry Creek Valley wines have garnered the attention of judges and critics from all over the world.  We specialize in Dry Creek Valley Zinfandel, but we are also known for our award-winning estate grown Petite Sirahs, Cabernet Sauvignons, red wine blends, and more!
CLUB WILSON
Membership in our wine club ensures our award-winning wines remain in your cellar all year long! Besides having access to our wines, membership also grants you special access to winery events, member-only specials, club excursions and much, much more!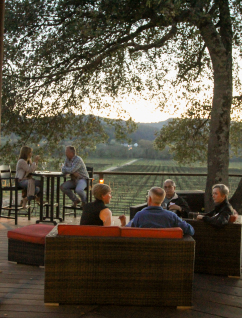 INTRODUCING 3 DOG ZIN
Long known as a destination for both wine and dog lovers, Wilson Winery now celebrates both with one delicious bottle. Dogs have always been a beloved part of the Wilson Winery Family—from Diane's Border Collie Molly's paw prints embedded in the cement floor of the tasting room to new additions Newton and Ben, the inseparable companions to the Wilson daughters, Sydney and Victoria. All three Wilson dogs grace this label in a 3 Dog Night inspired painting by local artist Mylette Welch.
WINEMAKER CRUISE
Join us on this luxurious wine and food expedition as we explore Renaissance architecture along the Italian coast and meander through medieval villages along the Adriatic. Throughout our journey, Diane and Antoine will be hosting an on-board wine program, including cocktail hours, in-depth wine seminars and an exclusive winemaker dinner featuring pairings with top tier Wilson and Mazzocco wines. From the Tuscan countryside, to the Greek Isles, you will be captivated by the charms of the Adriatic.  Currently Waitlist Only.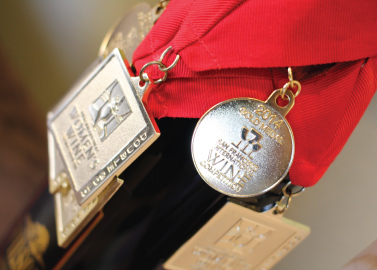 If this isn't Zin Heaven you can walk there from here. Rock pile, Sawyer, Ellie, and Primitivo rock. Ask for Jean to guide you through their tasting. And, ask her about great places to stay.
We had such a wonderful experience at Wilson. Their customer service and knowledge of their wines was outstanding. All the zin's were amazing and we joined their wine club.
Loved this winery! Everyone is so nice and conversational. The back deck is gorgeous and overlooks the vines. You can bring your own food to enjoy with their great wines.
Great place to sample interesting zin and other blends. Very nice variety and love that one variety supports a local animal rescue. Many thanks to Jane for hosting us!
Delicious, small lot, Dry Creek Valley Reserve Zinfandel is their specialty. You can also find petite syrah and bold red blends available. They have a nice open deck with great views!
The most amazing sunset and best service! I usually don't give reviews but we had to say something. Thanks wilson for making our trip so special. Great customer service and wines!